Best Malaysia Chinese Praying Altar Cabinet Table Supplier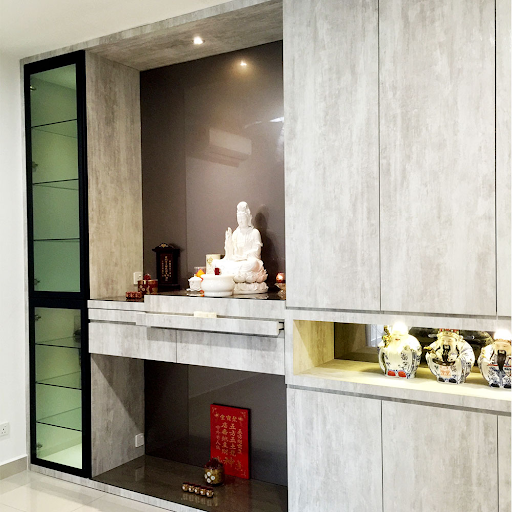 Best Malaysia Chinese Praying Altar Cabinet Table Supplier
Whether it's through the visible engravings on the table itself, or the not-so-obvious furnishings along its rims and edges, like every piece of furniture out there, a Chinese altar table has a story of its own. 
For Malaysian-Chinese families, the praying altar, as it is more commonly known, holds special significance in the household due to its significance in prayer. Here, one can often find statues of deities or plaques of ancestors enshrined, along with an incense holder and candles. There may be food offerings sometimes as well, depending on the occasion.
More often than not, the altar itself is but a part of a larger structure, and it is not uncommon to find shelves housing a variety of religious items alongside the altar. The whole thing is generally referred to as the praying cabinet, and typically has incense sticks, candles, oil, and sometimes even platforms for placing food offerings stored inside.
There isn't a strict classification with regards to the purpose of the altar table, but a difference does exist when it comes to the concept of the design. In recent years, it has become increasingly common to find minimalistic altars sitting directly ahead of the front door. These tend to be less jarring on the eyes, as they are often made to blend in with the overall look of the house itself, and aren't quite as conspicuous as their more traditional counterparts. 
History of the Chinese Altar Table
During the Imperial dynasties, the altar itself was actually one large edifice constructed to worship and make offerings to the deities. The altars of that time were referred to as 'jitan' (祭坛), and the offering ceremonies performed were known as 'jisi' (祭祀). One such example that you can see today is the Temple of Heaven in Beijing, now a UNESCO World Heritage Site.
In modern civilization, it has become increasingly common to find praying altars not just in temples and shrines, but in individual homes as well. Granted, while there are strict traditions and rituals governing the use of the Chinese praying cabinet in temples, things are generally less restrictive in one's personal abode.
In Malaysia, one can often find the praying cabinet right by the entrance of someone's house. Typically, it is placed directly in front of the door for feng shui. Deities commonly worshipped include Bodhisattva, Caishen, and Guan Gong. Ancestral plaques may also be placed alongside them, atop their own extension of the praying table.
A Buddhist home shrine. Source: Jinpaper
Things to avoid when placing a Chinese altar table
As we've mentioned before, a Chinese praying altar holds special significance as it is integral to religious prayer. As such, it is vital that we be mindful of the do's and don'ts when deciding where it should be placed.
1. Avoid placing the praying table in front of the kitchen or bathroom. 
If there is a stove behind the altar, it is as though you are putting the gods on the stove to bake. This symbolizes restlessness within the household and can result in unstable family fortune. 
The kitchen walls also tend to absorb a lot of smoke from cooking, and subjecting the divine to this may result in family members becoming sick easily. Similarly, the bathroom is a place of moisture and filth, and is not suitable to have the praying altar sitting adjacent to it.
2. Avoid placing the praying cabinet in front of the bedroom. 
The altar is considered to be a solemn part of the household, and it is disrespectful for it to be placed next to one's bedroom. This is particularly true for when couples engage in sexual relations. That being said, if it has to be next to someone's room, the altar can be placed next to the rooms of children under the age of 12 or the elderly over the age of 65.
3. One must ensure that there is a wall behind the altar. 
In Feng Shui terms, the presence of a wall behind you means there is something for you to fall back on. Similarly, you want the gods to be in front of a flat, firm wall, symbolizing that they have a "backing". Without "backing", one may easily find themselves at the receiving end of someone else's schemes or plots.
Types of Chinese altar tables with different uses
There are certain distinctions when worshipping deities compared to one's ancestors. One notable difference is the distance of the idol statue/ancestral tablet to the wall behind it. With deities, it is generally ideal for the statue to be placed close to the wall. 
However, with ancestral tablets, one might want to create a bit of distance instead. This is because one may assume that with the ancestral tablet close to the wall, there is no path of retreat. In essence, this will reflect on the family's fate as well. In a similar manner, having your "backs to the wall" is also sometimes synonymous with subduing posterity.
In general, praying altars differ mostly in design over usage. Here's a look at some examples between the two variations in terms of the altar's overall build and look.
Modern Praying Altars
Over recent years, it has become more common to find modern praying tables in Malaysia. These tend to be more accented in accordance with the overall look and feel of the room. 
Modern praying altar. Source: Jinpaper
Traditional Praying Altars
In contrast, traditional praying altars often feature intricate carvings across the surface of the cabinet doors as well as the roof of the altar, making them a slightly louder piece of furniture to have around.
A traditional Chinese praying altar. Source: Jinpaper
Conclusion
And there it is. We've talked about the significance of the praying altar in religious ritual and how it came to be the way it is today, as well as the things one might want to avoid when it comes to placement of the altar itself. 
To find out more about Chinese religious practices and customs, be sure to visit us at JinPaper, one of Malaysia's foremost Chinese altar table suppliers. And if we've missed out anything that you wish to see, let us know in the comments below!